Prof. Jiri Hlinka Piano Academy aims to highlight young piano talents
Jiri Hlinka Piano Academy establishes a three-year mentoring program promoting particularly talented piano students. The program receives financial support from Talent Norway, Kristian Gerhard Jebsen Foundation (main sponsor), Norwegian Ministry of Culture, Bergen Municipality and Hordaland County.
Pianist and piano teacher Jiri Hlinka's former students, the pianists Leif Ove Andsnes, Geir Botnen, Håvard Gimse and Christian Ihle Hadland, took over the artistic and educational responsibility of the academy in 2015. Now they are developing a three-year mentoring program targeting talented Norwegian piano students.
The recruitment for the talent program will take place in various music groups, music schools, high schools and colleges. It will recruit candidates from competitions such as Young Musician Competition and talent presentations organized by musical institutions and concert promoters. The piano academy's educators can also introduce talents through their own networks. The participants in the talent program may be from 15 years upwards.
Further information about how to enroll in the program will be launched soon.
Norwegian translation:
Prof Jiri Hlinka Klaverakademi vil løfte frem unge pianotalenter
Jiri Hlinka Klaverakademi etablerer et treårig mentorprogram som skal fremme spesielt talentfulle pianoelever. Programmet får finansiell støtte av Talent Norge, Stiftelsen Kristian Gerhard Jebsen (hovedsponsor), Kulturdepartementet, Bergen kommune og Hordaland fylke.
Pianist og klaverpedagog Jiri Hlinkas tidligere elever, pianistene Leif Ove Andsnes, Geir Botnen, Håvard Gimse og Christian Ihle Hadland, tok over det kunstneriske og pedagogiske ansvaret for akademiet i 2015. Nå vil de utvikle et treårig mentorprogram som rettes mot spesielt talentfulle norske pianoelever.
Rekrutteringen til talentprogrammet vil skje i ulike musikkmiljøer, kulturskoler, videregående skoler og høyskoler. Det vil også være aktuelt å rekruttere kandidater fra konkurranser, som f.eks. Ungdommens Musikkmesterskap og talentpresentasjoner i regi av musikkinstitusjoner og konsertarrangører. Klaverakademiets pedagoger kan også hente inn talenter gjennom egne nettverk. Deltagerne i talentprogrammet kan være fra 15 år og oppover.
Nærmere informasjon om hvordan bli tatt opp på programmet kommer innen kort tid!

News and information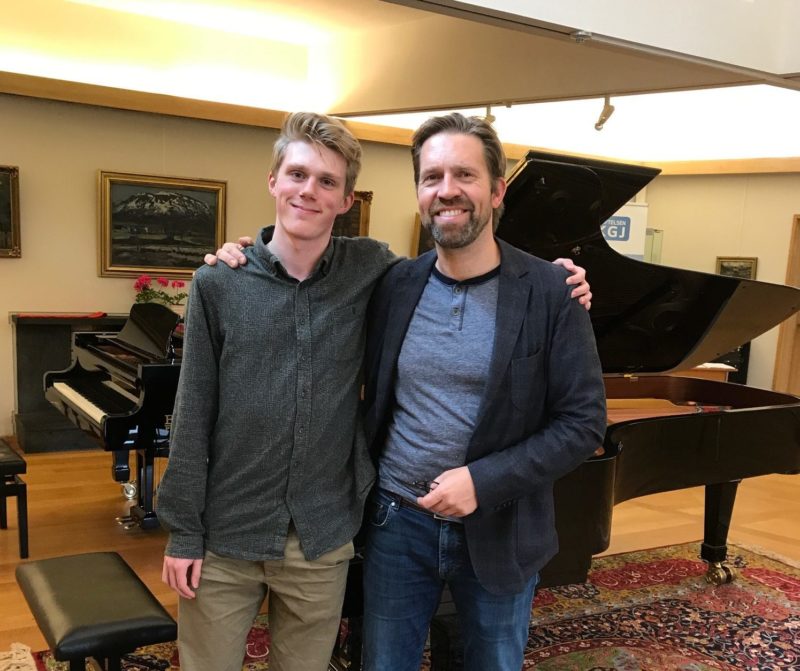 Olaf Andreas Strand fra Mo i Rana er etter prøvespill blitt plukket ut som ny deltaker ved klaverakademiets talentprogram for unge norske pianister. Etter søknadsfristen utløp 1. august, var det kommet inn flere gode søknader, hvorav tre av søkerne ble invitert inn til prøvespill.
Olaf får tilbud om å følge programmet over en 2-års periode, noe som blant annet innebærer deltakelse på tre årlige mesterklasser sammen med andre unge internasjonale pianister på høyeste nivå, konsertopptredener, samt personlig veiledning av akademiets mentorer Leif Ove Andsnes, Håvard Gimse og Christian Ihle Hadland.
Om Olaf:
Olaf A Strand er 18 år gammel og student ved talentutviklingsprogrammet Unge Musikere ved Institutt for musikk, NTNU med Jørgen Larsen som lærer. Han begynte på Rana Kulturskole i 2007 og flyttet i 2015 til Trondheim for å begynne på musikklinjen ved Trondheim Katedralskole, der han fikk undervisning på klaver av Siv Fjellvang. I 2017 opptrådte han som solist med Trondheim Symfoniorkester i første sats av Griegs klaverkonsert. Ved siden av solistopptredener har han medvirket i mange kammermusikksammenhenger. Olaf har deltatte på Valdres Sommersymfonis pianokurs fem ganger og på Toppen-kurset. Hele tre ganger er han blitt tildelt Dørum-stipendet.
Juryens uttalelse:
Olaf Andreas er blitt plukket ut på bakgrunn av sitt store potensiale som pianist. Han er et talent som møter musikken med stort alvor, og han utmerker seg med en sterk uttrykksvilje i sitt spill. Hlinka-akademiet vil bidra til at Strand kan utvikle seg i retning av en fremtid som profesjonell musiker.
Stor takk til våre støttespillere:
Talentprogrammet ved Prof. Jiri Hlinka Klaverakademi er gjort mulig gjennom støtte fra Talent Norge, Stiftelsen Kristian Gerhard Jebsen, Hordaland Fylkeskommune og Bergen Kommune!